Denny's on 9320 S. Eastern Ave in Las Vegas has completed renovations and now offers guests an even better experience inside!
G2G Management Group and the Eastern Ave Denny's staff had a great time celebrating with guests…and Bacon made another appearance! Stop by and see the new look today, located on Eastern and Serene right off the 215.
Don't miss the next Celebration, this Saturday at 6300 W. Charleston Blvd.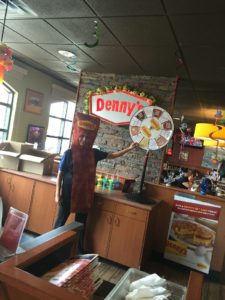 About G2G Management Group
G2G Management Group is a franchisee of Denny's with 38 locations located in Nevada, California, and Colorado. For more information on locations, visit g2gmg.com/locations. Connect with us socially on Linkedin, Twitter, Google+, or Facebook. For questions, comments, or additional information, email info@g2gmg.com.