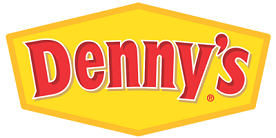 DENNY'S RENOVATES FIVE LAS VEGAS DINERS
LAS VEGAS (April 16, 2016) – Denny's is proud to renovate five restaurants in Las Vegas with Grand Celebrations in April and May, giving the whole community a chance to join in the celebration. The newly renovated diners will feature updated interiors with locally-inspired designs and a beloved diner menu for everyone to enjoy. Visitors and locals across Las Vegas can stop by their closest Denny's to see the refreshed diners and enjoy diner discounts and giveaways.
"These celebrations are a way for us at Denny's to show Las Vegas how much we appreciate their support," said Vincent Eupierre, Denny's franchisee and G2G Management Group CEO. "We look forward to having our regulars and first-time guests take advantage of discounts on their favorite dishes in the brand new atmosphere at their local Denny's."
To kick off the grand re-opening festivities, four Denny's restaurants will offer select diner classics at a reduced price during their Grand Celebration. For only $2.99, guests can enjoy Denny's Original Grand Slam®, which includes two buttermilk pancakes, two eggs cooked to order, two bacon strips and two sausage links. Incredible values will also be available during lunch, dinner and anytime in between with The Super Bird® for $3.99 and the Country-Fried Steak Dinner for $5.99. Hundreds of additional prizes will be given away during each celebration. Guests can enjoy a Grand Celebration at their favorite Las Vegas Denny's location on the following dates:
5045 W. Tropicana Ave. – Saturday, April 23 @ 8 a.m.
9320 S. Eastern Ave. – Saturday, April 30 @ 8 a.m.
6300 W. Charleston Blvd., Suite 110 – Saturday, May 7 @ 8 a.m.
5585 Simmons St. – Saturday, May 14 @ 8 a.m.
Open 24 hours a day, 365 days a year, Denny's will continue to serve great food at affordable prices for breakfast, lunch, dinner and late-night in a relaxed, friendly environment. Denny's is also known for providing its customers with tremendous value, including these great deals:
$2 $4 $6 $8 Value Menu® – Denny's all day, every day value menu lets guests choose from 16 dishes at affordable prices, including traditional favorites as well as several new a la carte items.
Kids Eat Free – Guests can receive up to two free kids meal for children ages 10 and under with the purchase of each adult entrée. The offer is good from 4 to 10 p.m. on Tuesdays and Saturdays; menu items and prices may vary.
"Fit Fare" – Delicious choices that are good for you, too.  Denny's "Fit Fare" options feature healthy choices like egg whites and hearty wheat breads that can be substituted into any meal for no extra charge. Using the expansive Build Your Own Grand Slam® menu, diners have more than 250 ways to build a meal with 550 calories or less, and 32 ways to build a meal of 400 calories or less. With plenty of simple substitutions and healthy "Fit Fare" entrees found throughout the lunch and dinner menu, Denny's makes it easy for you to eat well on the go.
Free Birthday Grand Slam®– Celebrate your special day with a free Original Grand Slam® meal at participating Denny's restaurants. The Original Grand Slam® offer is free for the birthday guy or gal who can show proof that it's their birthday, and is good for dine-in only.
AARP Members Save 15 Percent – Show your AARP membership card at participating Denny's restaurants and save 15 percent off your total check all day, every day.
Military Discount – Active and retired military receive 15 percent off all day, every day with a valid military id.
About Denny's Corp.
Denny's is one of America's largest full-service family restaurant chains, currently operating 1,700 franchised, licensed and company-owned restaurants across the United States,  Canada, Costa Rica, Mexico, Honduras, Guam, Curaçao, Puerto Rico, Dominican Republic, El Salvador, Chile, New Zealand and the United Arab Emirates. For further information on Denny's, including news releases, please visit the Denny's website at www.dennys.com or the brand's social channels via Facebook, Twitter, Tumblr, Pinterest, Instagram  or YouTube.
About G2G Management Group
G2G Management Group is a franchisee of Denny's with 38 locations located in Nevada, California, and Colorado. For more information on locations, visit g2gmg.com/locations. Connect with us socially on Linkedin, Twitter, Google+, or Facebook. For questions, comments, or additional information, email info@g2gmg.com.