Denny's Celebrates at 5045 W. Tropicana Ave., Las Vegas NV and Denny's located at 350 East 104th Ave., Thornton CO  by hosting 'Grand Slam Celebrations' for their newly renovated restaurants by G2G Management Group.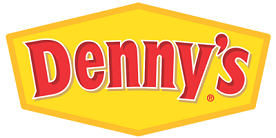 Denny's Celebrates with Awesome 1-Day Only Deals
Guests enjoyed exclusive, 1-day only specials, including an original Grand Slam for only $2.99, The delicious Super Bird for $3.99, and our wonderful Country-Fried Steak for $5.99. These were awesome deals for guests who came in for breakfast, lunch, or dinner.
Great Prizes and Exclusive Coupons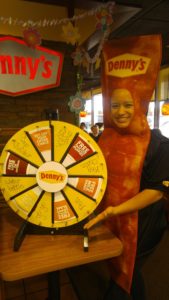 Every guest was able to spin the prize wheel when checking out to win prizes or coupons.
Prizes included water bottles, frisbees, pens, yo-yos, and other fun classic giveaways.
Special coupons included everything from 20% off next check to free items.
Bacon also made an appearance off the plate by serving and greeting guests as they enjoyed their meals.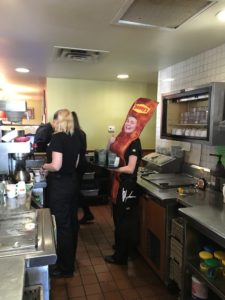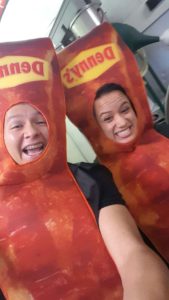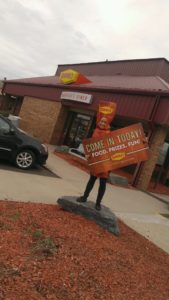 Don't Miss the Next Event!
The next Grand Slam Celebration is located at 9320 S. Eastern Ave., Las Vegas NV 89123 and will take place this Saturday, April 30th. If you missed one the celebrations last week, be sure to come and enjoy the deliciously discounted food and great service.
We'll also be having a few more events in the upcoming weeks.
9320 S. Eastern Ave. – Saturday, April 30 @ 8 a.m.
6300 W. Charleston Blvd., Suite 110 – Saturday, May 7 @ 8 a.m.
5585 Simmons St. – Saturday, May 14 @ 8 a.m.
You can also click here to read more about the renovations and the celebration events.
About Denny's Corp.
Denny's is one of America's largest full-service family restaurant chains, currently operating 1,700 franchised, licensed and company-owned restaurants across the United States,  Canada, Costa Rica, Mexico, Honduras, Guam, Curaçao, Puerto Rico, Dominican Republic, El Salvador, Chile, New Zealand and the United Arab Emirates. For further information on Denny's, including news releases, please visit the Denny's website at www.dennys.com or the brand's social channels via Facebook, Twitter, Tumblr, Pinterest, Instagram  or YouTube.
About G2G Management Group
G2G Management Group is a franchisee of Denny's with 38 locations located in Nevada, California, and Colorado. For more information on locations, visit g2gmg.com/locations. Connect with us socially on Linkedin, Twitter, Google+, or Facebook. For questions, comments, or additional information, email info@g2gmg.com.